DO YOU HAVE A ROOM YOU'VE BEEN LOOKING AT SIDEWAYS FOR YEARS, BUT CAN'T SEEM TO MUSTER UP A GAME PLAN FOR? maybe you have some idea of what you like but you need an assist to make sure it works IN REAL LIFE. Are you RENOVATING and WANT TO ARM YOURSELF WITH A GAME PLAN SO YOU don't leave the design up to your contractors. Or maybe you are a hands-on diy-er who is not afraid of a paint brush and a little furniture assembly but you just want to make sure your efforts are not wasted on A bad END RESULT.
PROJEKT CHIC CAN guide you GENTLY

from WACK TO WONDERFUL IN a few WEEKS
MY ONLINE SERVICES make it easy to transform your space(s), small or large, by providing everything you need to be sure you end up with results that you love rather than just live with. And the best part is that you can achieve your style dreams with the help of a professional for a fraction of the price of full design services.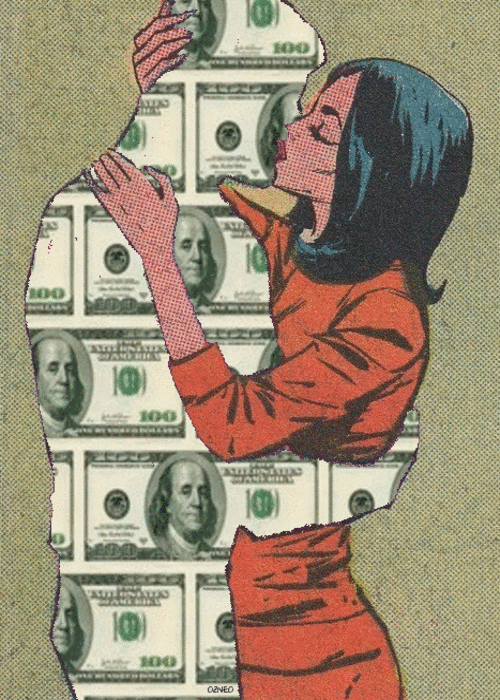 Suggestions for your space will be tailored to your personal style and needs. dON'T LET MY CRAZY PERSONAL TASTES FOOL YOU. i BELIEVE THERE ARE AS MANY DECOR STYLES AS THERE ARE PEOPLE AND MY GOAL IS TO DISCOVER WHO YOU ARE AND REFLECT IT IN YOUR SPACE.

Opt for more than one design option. (Maybe one that's in your safe zone and one that helps you TRY OUT A NEW direction.)

Straight-forward and transparent fee structure AND LOT'S OF OPTIONS allows you to tailor your design results to your budget.

Quick turnaround helps you get to work fast on implementing your newly designed space.
so…HOW DOES IT WORK, EXACTLY?
Once you reach out (See my contact tab), we'll figure out a game plan an I'll have you fill out a few forms to understand your style and specific needs/ goals.
And we'll pick out a package that fits your budget.
You may have to snap a few pics and possibly take some basic measurements.
Once we have a plan in place, I'll send a simple contract, at which point 50% of your fee is due.
Within two weeks of payment, I'll submit to you all the documents we agreed on. IE: color choices, design boards, space plans, shopping links ,renderings etc.
And final payments is due upon receipt of your design documents.
You can get to the business of transforming your space with all the information and tools necessary for peace of mind!!!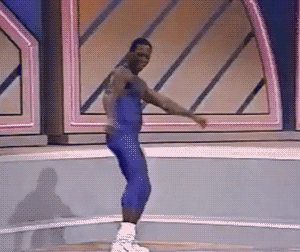 Design Packages
 COLOR CONSULTATION only $30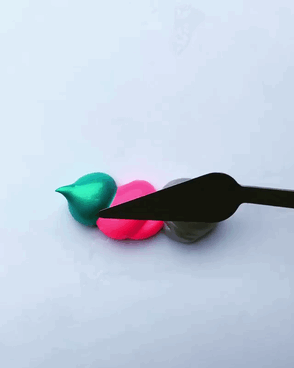 FLAT RATE FOR A 1 HOUR IN-PERSON CONSULT OR EQUIVALENT ONLINE CORRESPONDENCE.
*IT IS UNLIKELY THAT THE EXACT COLOR WILL BE IRONED OUT. WE WILL DETERMINE A COLOR FAMILY OR SEVERAL THAT WORK AND TALK ABOUT WHY. THE GOAL IS TO ARM YOU WITH WHAT MAKES SENSE IN YOUR SPACE, GIVEN YOUR EXISTING FACTORS AND PERSONAL TASTES. IT IS IMPOSSIBLE TO CHOOSE THE PERFECT COLOR FROM A FAN DECK OR PHOTOGRAPH. TO INSURE YOU WILL LOVE ANY COLOR ONCE IT HAS BEEN APPLIED IT IS CRITICAL TO FOLLOW UP WITH TEST SWATCHES ON YOUR WALLS TO OBSERVE THEM AS THEY ACTUALLY GO ON AND IN CHANGING LIGHTING SCENARIOS.
THE BASIC PACKAGE $149- $229 (based on room Size/SCOPE OF DESIGN)
ONE SPACE OR ROOM
ONE HOUR IN-PERSON MEETING OR EQUIVALENT ONLINE CORRESPONDENCE TO ESTABLISH PROJECT GOALS AND REQUIREMENTS.
DEVELOPMENT OF INDIVIDUALIZED DESIGN PROGRAM BASED ON CLIENT QUESTIONNAIRE, STYLE PROFILER AND CORRESPONDENCE.
SUMMARY (FOR APPROVAL) OF YOUR PERSONALIZED PROJEKT.
A DIGITAL DESIGN BOARD INCORPORATING SUGGESTED FINISHES, MATERIALS, FURNITURE, LIGHTING, ETC. IN A LAYOUT THAT ASSISTS CLIENTS IN ENVISIONING FINISHED PROJEKT.
A SHOPPING CATALOG WITH LINKS TO ALL SUGGESTED ITEMS WITHIN SPECIFIED BUDGET. ($79 "BASIK" FOR SECOND ROOM TO BE DESIGN SIMULTANEOUSLY.)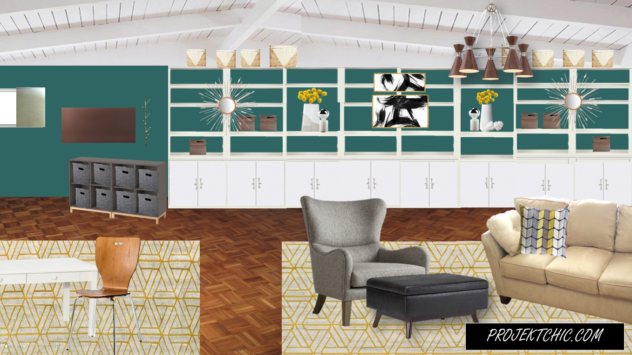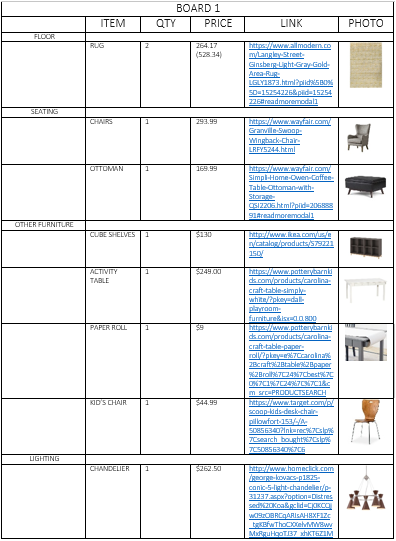 additional services
$49 PER ROOM FOR SPACE PLANNING, SUGGESTING ARRANGEMENT OF FURNITURE AND LIGHTING. INDICATING RELATIVE POSITIONING IN ROOM.

LAYOUT SOLUTION FOR EXAMPLE BOARD 1

$69 PER ROOM FOR A SECONDARY OPTION OF ALL MATERIALS (THIS IS A GOOD OPPORTUNITY TO SEE ONE DESIGN IN YOUR COMFORT ZONE AND ONE THAT'S MAYBE A LITTLE MORE ADVENTUROUS.)

EXAMPLE BOARD 2

LAYOUT SOLUTION FOR EXAMPLE BOARD 2

a FAKE-OVER: $159 Per ROOM FOR RENDERED SNAPSHOTS AND A VIDEO TOUR APPROXIMATING YOUR SPACE.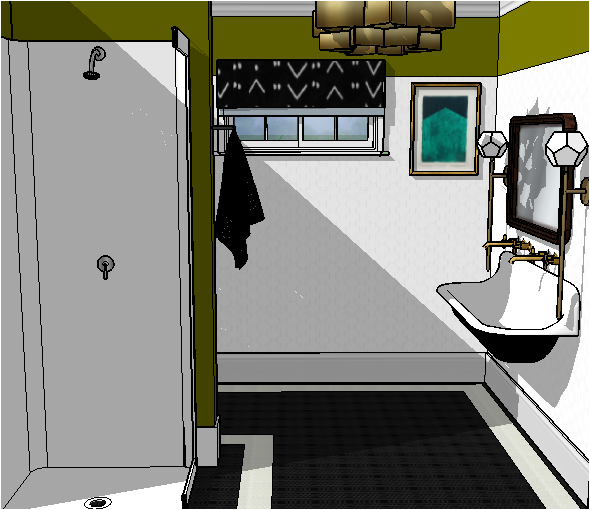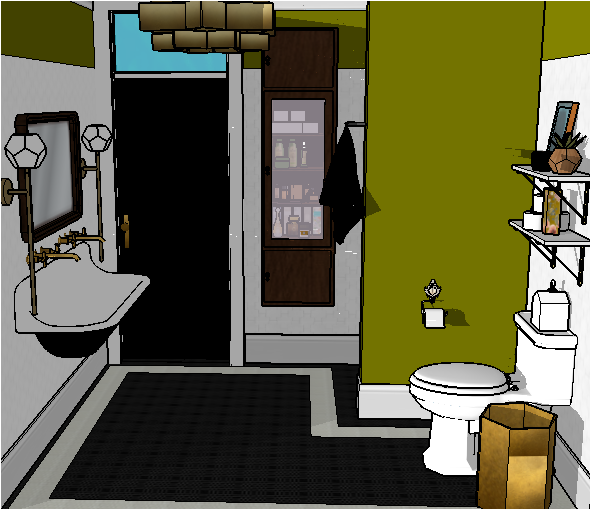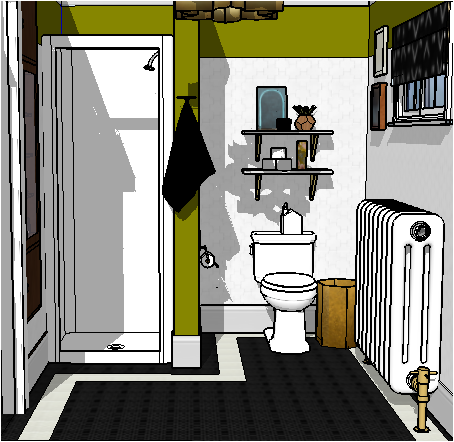 RENDERED SPACE VIDEO TOUR EXAMPLE
>>>>>>>>>>>>>>>>>>>>> <<<<<<<<<<<<<<<<<<<<<
Subscribe to the madness! And show me some social media love!