"… the thing nobody asked for has finally arrived!"
Subscribe to the madness! And show me some social media love!
Yup.
This is my first official blog post and I'm oh-so-amped to finally combine my three loves: design, writing and feeling superior enough about all my life choices to present them to you publicly, as though they are impervious to the scrutiny of time. For real tho, this platform feels like the perfect thing for me. Although I admit I don't quite know what this thing will be about. To be honest, I struggle with the superficiality of the subject I care so much about. I'm a little self- conscious about pretending that "design problems" are um… problems. Maybe that's what this blog is about. No.That would be excruciating. I'm just gonna say I'm kind of sorry for being into something that doesn't really matter. I'm just obsessed and it's where my talents lie. So with that, the thing nobody asked for has finally arrived! Aaaaaand….. blogging.
I'm still kinda getting adjusted to not being a student. I'm working on launching my online design services and reinventing my Etsy site as a decor shop. So stay tuned for all of that. Anyways, I haven't done any big projects at the Mothership in awhile.  But a few weeks ago I just couldn't stand looking at my uninspired fireplace anymore. (There it is. I already sound like an asshole.) It was painted over when we moved in. And it's somewhat weird. The mantle is super high but the firebox is really shallow. I don't know. We don't use it, but it features pretty strongly in the living room because of its size. I had painted the thing bluish grey when I finally got around to doing something with that room. Real talk, it was a choice based on freeness and laziness and involved mixing the leftover white and black trim paint that I had from the room which yielded a disappointing and barely any better result. I guess many of my house projects are provoked by glancing at something everyday with annoyance until I am overcome with disgust- induced inspiration. So one night at like 11PM I was walking past it with my usual "how dare you?" face and it hit me…MUD CLOTH! I've been waiting for a way to incorporate this trend in an interesting way. It's hilarious to call something ancient a "trend" but I'm doing all the stuff that design bloggers do because I'm on the team now! Deal with it.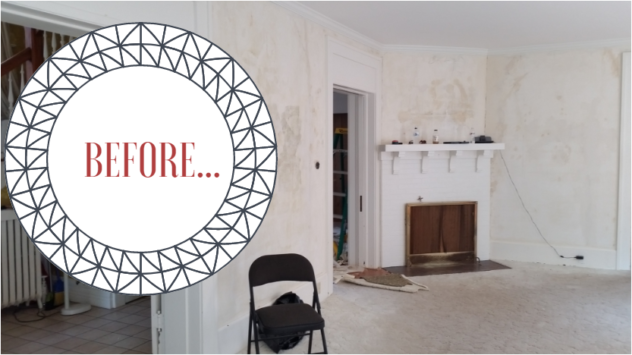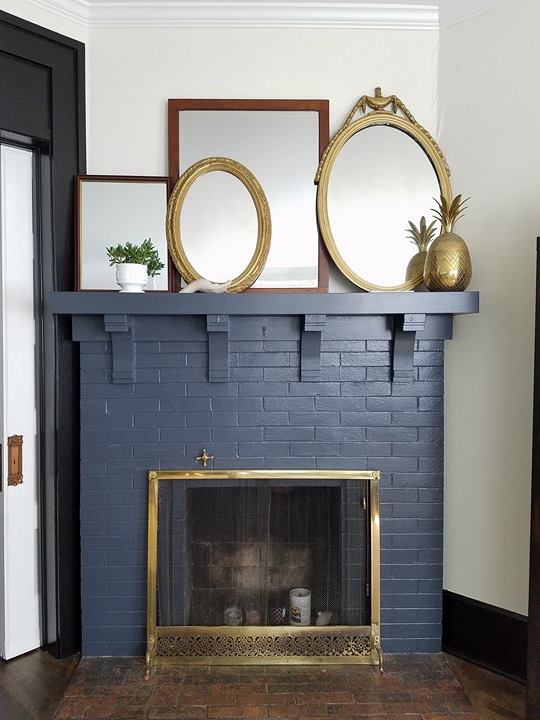 Mud cloth was the obvious solution to this very serious real world problem that everybody should care about.
I'm all about textiles, I'm weirdly interested in handicraft traditions (especially textiles) and I have lived for black and white since I was six years old and had a classy AF "big sister" whose apartment was a 1980's dream, featuring black lacquer and white leather furniture. So yeah… obviously Mud cloth.  Bogolanfini is the Malian tradition of painting narrative patterns on simple cotton fabric with fermented mud. I mean…The Motherland for the style points as ushe. I first saw it popping up in the mainstream from black style entrepreneurs and street fashion folks. They made it cool as hell and then about a year after that high- end and finally retail fashion and decor designers started going crazy for the stuff. And now I'm with it. Stay behind the curve. That's what I always say.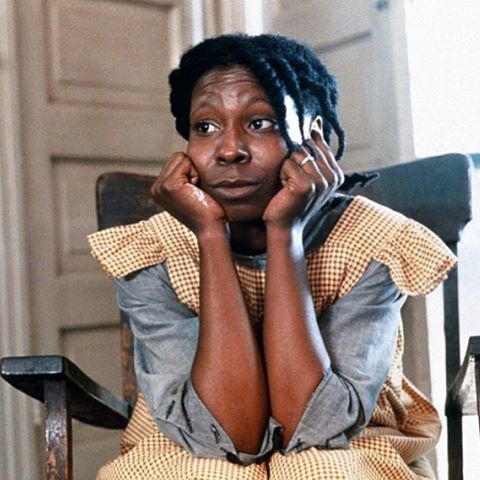 So I did a little research about what the symbols mean and kinda planned out my pattern according to my interests, what messaging I wanted to bring into my home, and of course aesthetic balance. I most heavily used the wealth/ luxury and the brave/ fearless motifs. Wishful thinking on both accounts. There was no symbol for self-awareness. I also used the farmer's symbol (my husband and best friend both stay growing food and I like to eat) and the weaving symbol, which I stretched to represent design more broadly. It was kind of fun. I decided not to use the one that asserts dominance over the other wives because I'm so dominant that those bitches don't exist.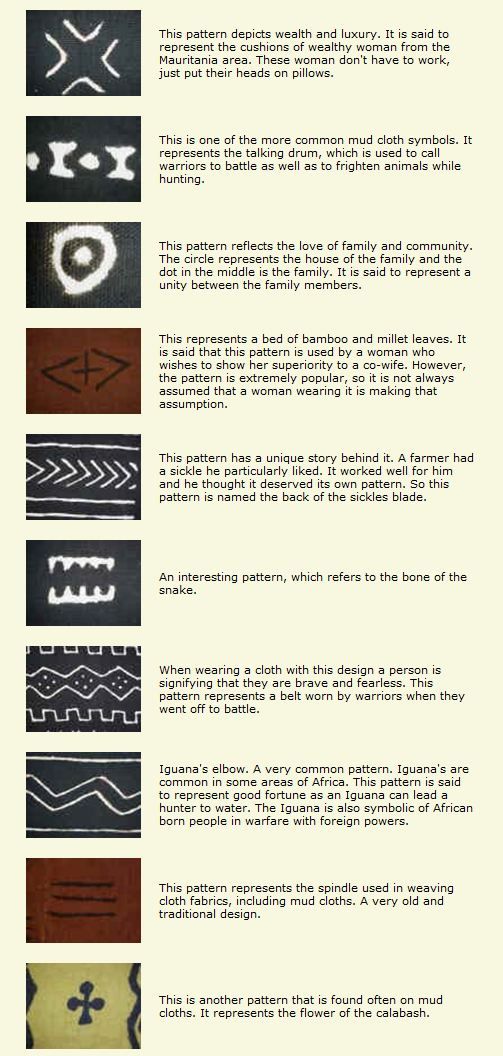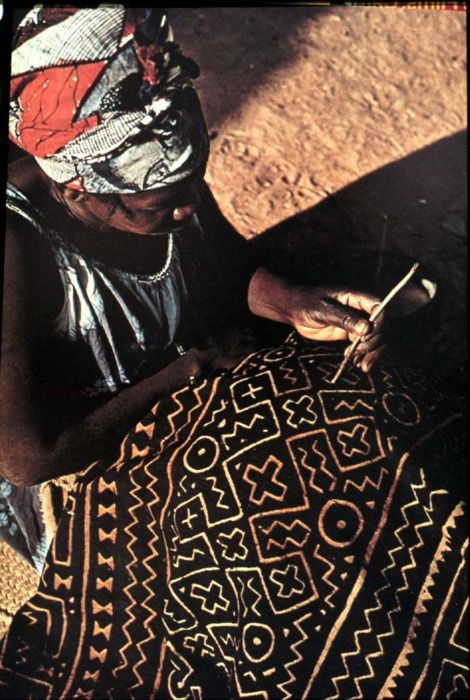 There is basically no bad way to incorporate a high contrast pattern that has managed to be on trend for centuries. Now that we agree and there are no more nuances or differences in personal tastes to consider, we can move on. Blogging is fun.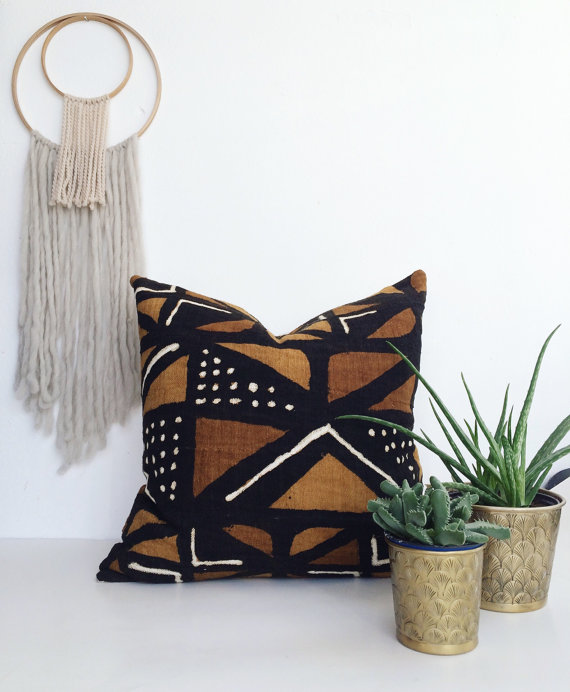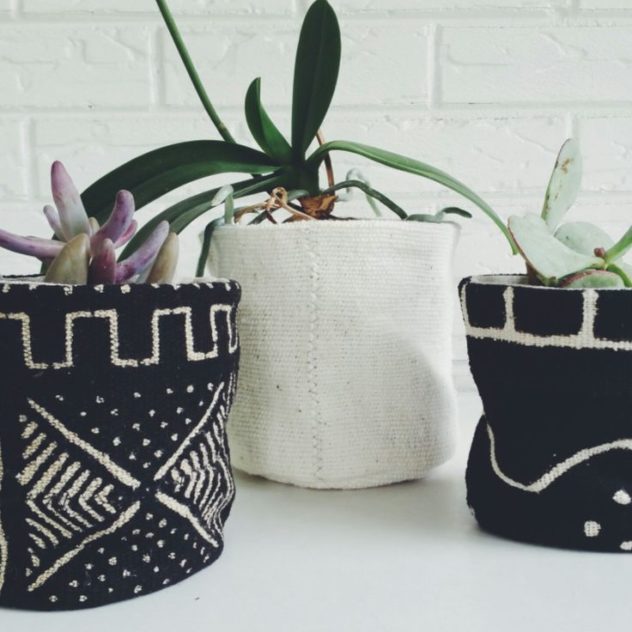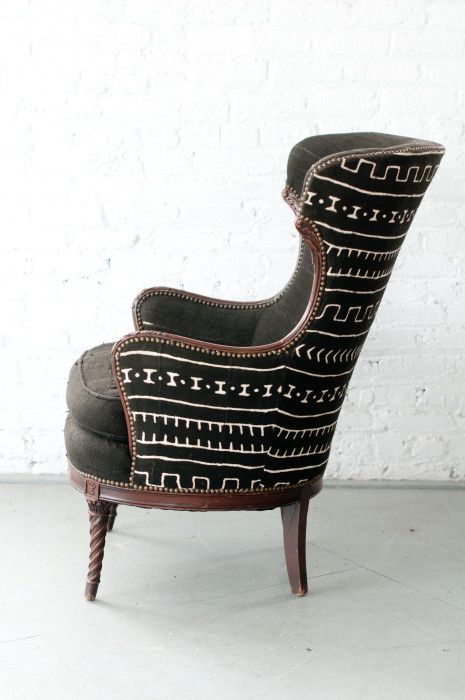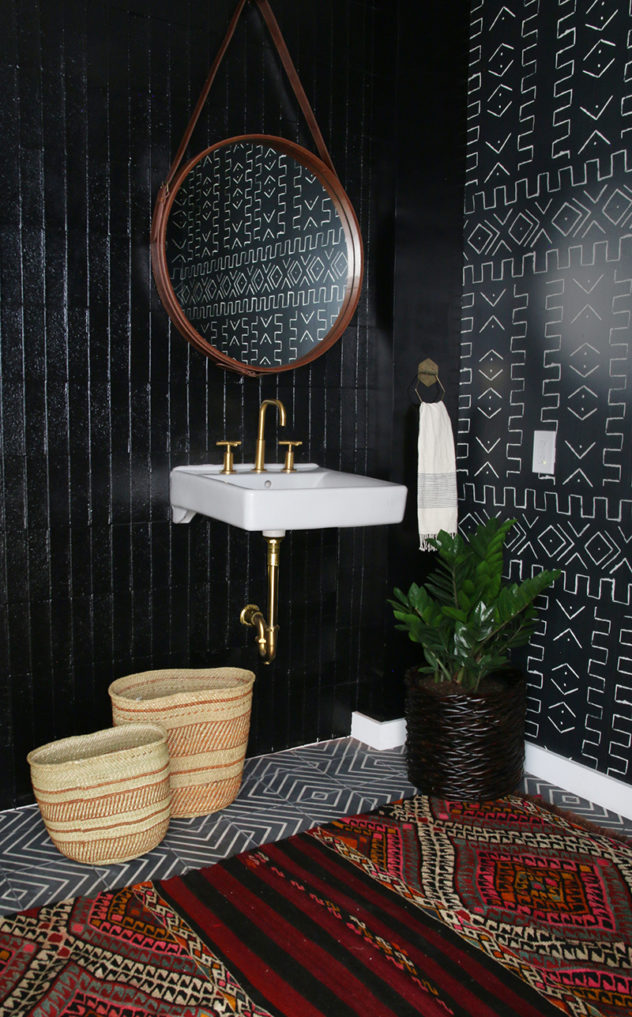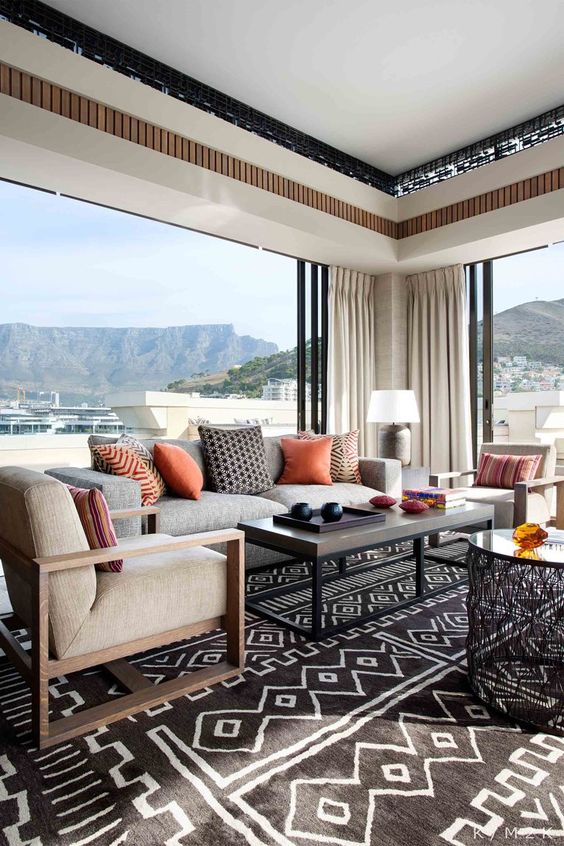 To recap: Bogolanfini is a design gift from the ancestors that keeps on giving.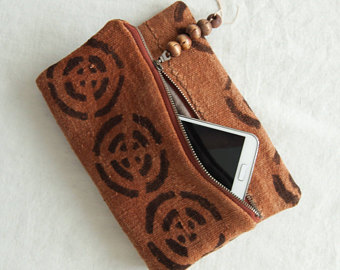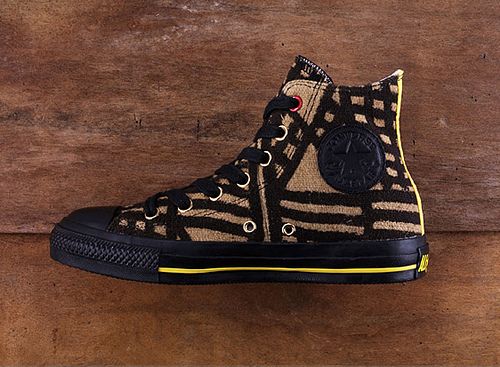 Plus, Solange told me to.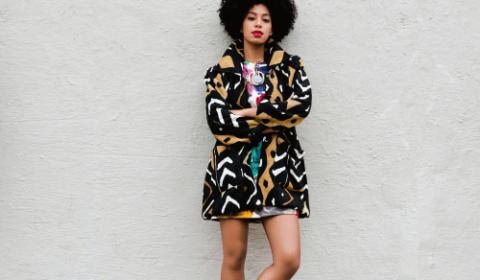 So, I stripped the mantle down to its 100 year old wood and was really excited by its condition. I used that orange citrus stripper stuff and it worked amazingly and didn't smell strong at all. I'm not selling it. It's just legit. Scraped off three layers of paint in one go without funking up the place. Then I let it totally dry- gets kinda soggy from soaking overnight. And then I kinda half-ass sanded it by hand and cleaned it with some Thieves cleaner and vodka. Then I put on two coats of stain as close to the raw color as possible. Then I painted the surround. I want to note that I used regular interior paint rather than the high heat stuff because I have no plans on actually using the firebox. Please don't follow my lead and burn your shit down and sue me. I'm not calling you stupid… just… paint is flammable. So. I said that.
And that's pretty much it. There was some sanding and touching up to do on the surrounding trim and wall surfaces from where the stripper went rogue but it was still a three day project.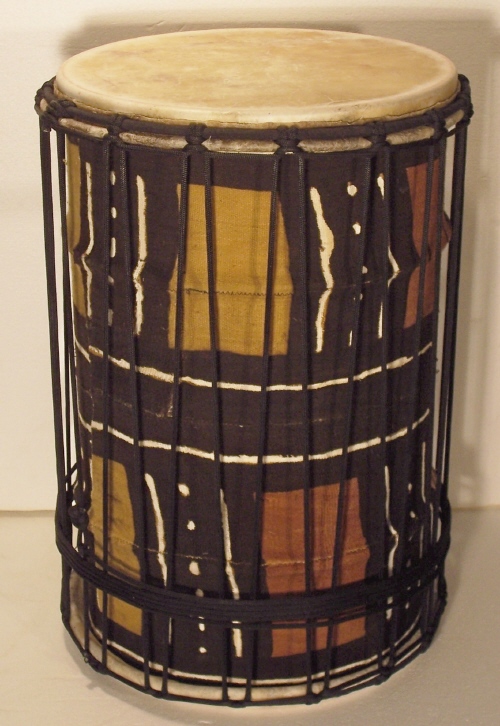 And here's the final result:
A friend gave me some masks from his travels a few months ago and I couldn't resist throwing them up there. I know the "African corner" is more of a theme right now than a casual reference but I'm good with that. The fun thing about mantles is they are easy and fun to restyle and change when you get restless or with the seasons. (I'm forever on the thrift hunt for a larger scale mirror that isn't dwarfed by this fireplace, FYI)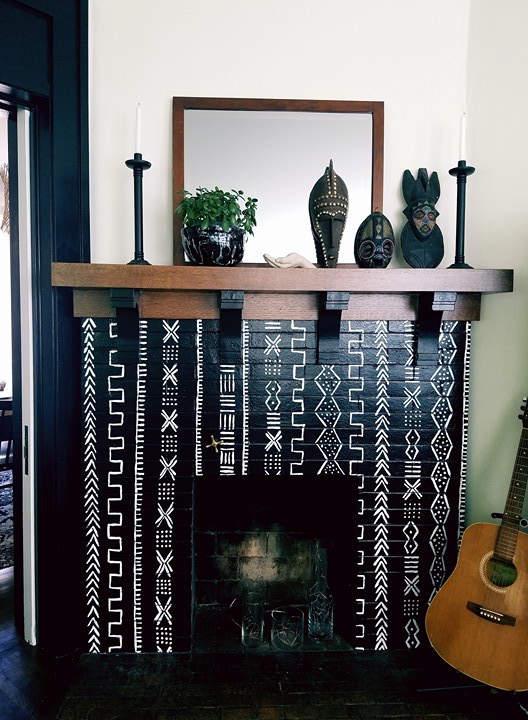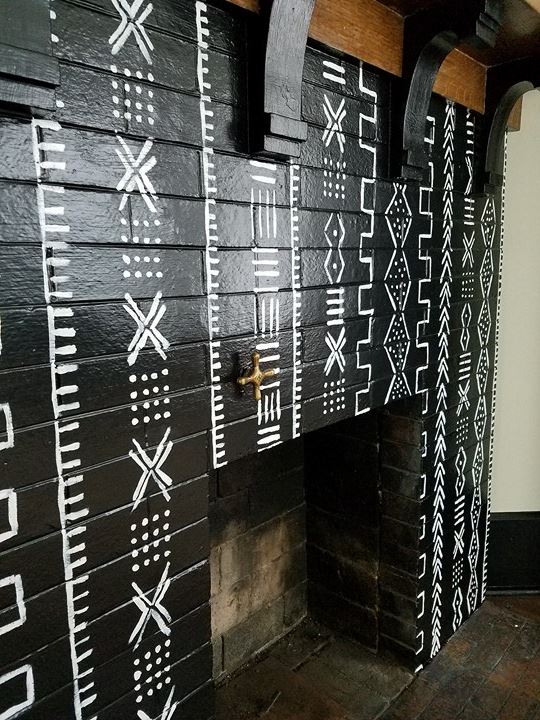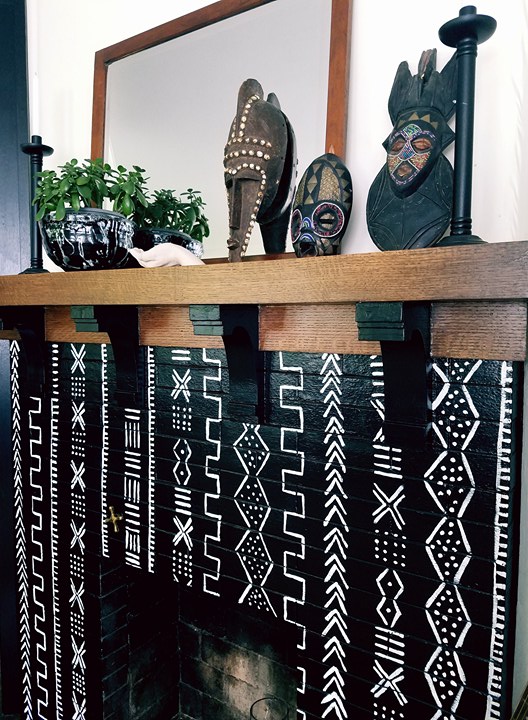 And now I'm scoping screens and accessories for this bad boy.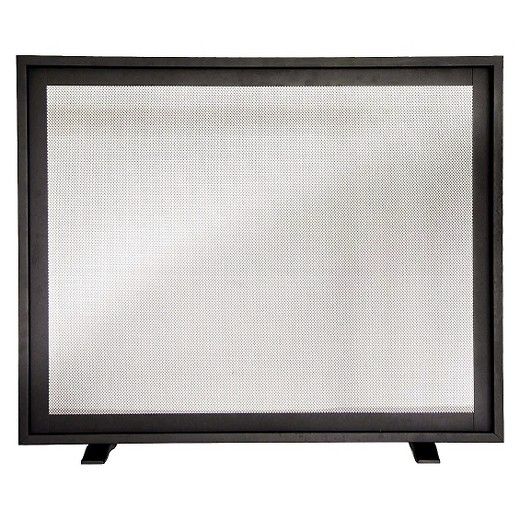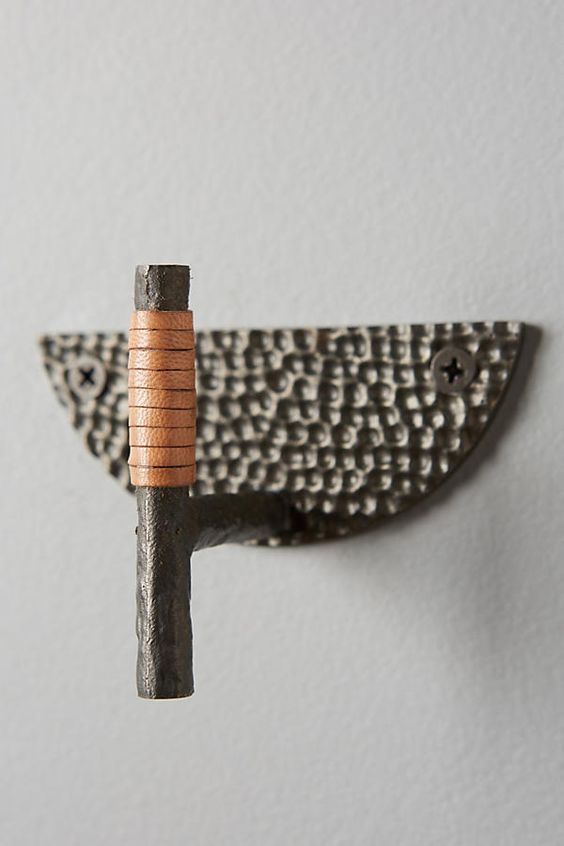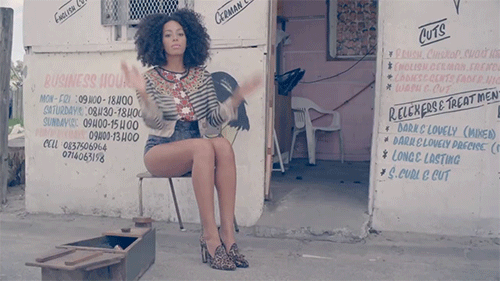 Thanks for reading my first post.
Subscribe to the madness! And show me some social media love!